DiskStation Manager 5.2

Meeting Your Future Storage Needs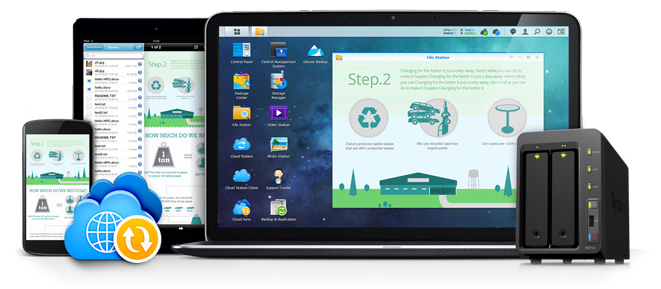 DiskStation Manager (DSM) is an intuitive web-based operating system found on every DiskStation and RackStation. It's been designed to help you manage your data: documents, photos, music, videos and all other important forms of digital assets. With DiskStation Manager, it's more than just storing data. DSM offers a various range of applications and services to bring more entertainment to your home life as well as better productivity at work.
Refreshed UI Design
Completed with great user experience
Once you log into DSM, you know how to use it. The web-based operating system has a short learning curve. DSM's clean and refreshed user interface invites you to explore all the packages we have to offer. There's a lot of usability tweaks to make your user experience top-class.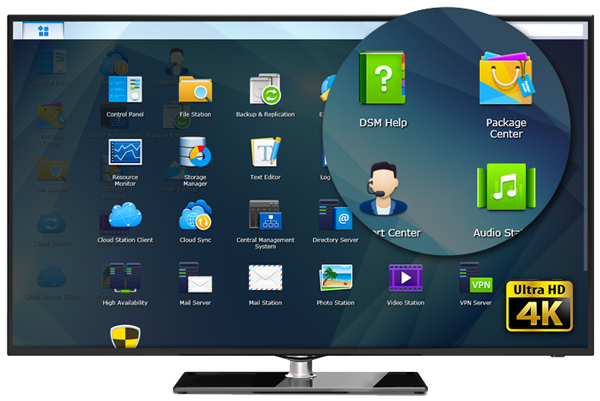 Anytime, Anywhere Connection with Synology QuickConnect
With Synology QuickConnect service, your data is always at hand. This free remote access service is provided to all Synology users.

5 great reasons you will love Synology QuickConnect
Synology QuickConnect lets you enjoy more applications than ever before, without the complicated remote access setup. Now you can share lovely photos with friends, listen to music using your very own playlist, watch movies anywhere, sync work files with colleagues, and monitor camera to ensure security. All those advantages come from QuickConnect.
Customize it all with Packages
DiskStation Manager is an open source platform with a variety of packages, making your DiskStation fit into any kind of environment. From being a hi-definition multimedia center, to an all-purpose business server, there is a package to meet your requests.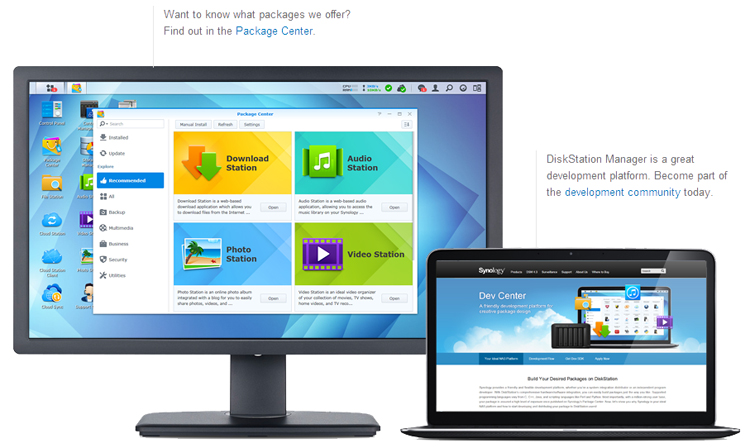 The All-in-One Server Fitted for Every Business
Synology's business line of storage solutions have been designed to help you manage your company's digital assets. There is a suite of added-value packages to facilitate business daily life, flexible administrative options, as well as tools to secure your DiskStation and valuable data.

Your multi-function server

Applications that used to require dedicated servers are unified on DiskStation. It's a cost-efficient all-in-one server for start-ups and large scale businesses. Learn More.

Server management can be easy

Server management stays simple on DSM, regardless of the amount of units you own. Managing rows of servers is just as easy as managing one. Learn More.

iSCSI & Virtualization

You need affordable storage designed for a virtualized infrastructure that's easy to manage, supports continuous data growth, and keeps your business up and running. Learn how DSM meets the need for simplicity and flexibility in today's virtual datacenters. Learn More.

Synology storage solutions

Synology developed many tools related to various storage solutions, helping all users to meet different storage demands. Your server stays on top performance at all times. Learn More.

Trustworthy data backup for all situations

We all have data that we don't want to lose. That's why you should make DiskStation as a backup destination. Your files will always be available. Learn More.

Secure your data and maintain server availability

In businesses where 24/7 service is paramount, DSM offers series of high availability and security measures to safeguard you from unexpected server disruption and data loss. Learn More.
File Sharing

Solutions for Backup, Storage and File Management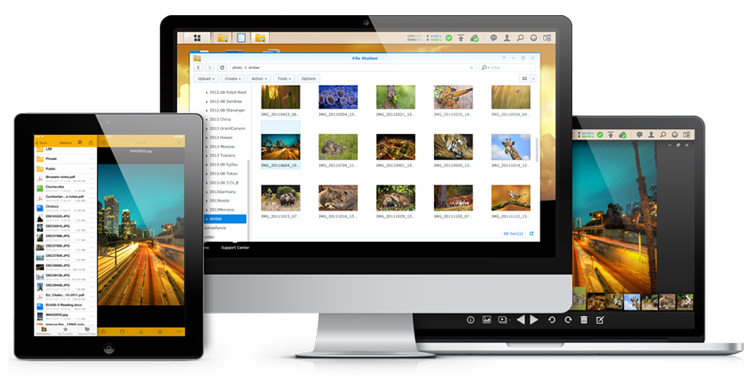 Synology DiskStation provides you a secure and fast way to share any digital file you want. Acting as a file center, File Station lets you not only move files in between your PC and DiskStation, but also offers the flexibility to set up permissions for user privileges to enhance productivity. You can even enjoy seamless file sharing across different platforms -Windows, Mac, and Linux, no matter where you are, what device you use.