100 Desktops, 1 OS, Lowest Cost " Change Your Computing Economics "
NComputing's patented and award winning vSpace Server changes the economics of desktop virtualization. vSpace Server supports up to 100 user sessions per instance, offering the most affordable desktop virtualization solution in the market. Combine the power of multiple vSpace Servers and scale vSpace virtualization platform deployments to thousands of connections.
vSpace Server software divides a computer's resources into independent virtual workspaces that give each user their own rich PC experience. vSpace Server utilizes the NComputing UXP (User eXtension Protocol) to deliver a highly optimized virtual desktop to NComputing thin clients andsoftware access clients.
vSpace Server 8.3 is the latest and best version of NComputing's flagship vSpace desktop virtualization platform. vSpace Server 8.3 aims to provide the best value for customers deploying Windows based desktop computing. It delivers:
A great desktop experience in 7 popular Windows OS's (including new support for Windows Server 2012 R2)
Full motion, full screen 1080p HD multimedia streaming & high-resolution monitor display support up to 1920×1200
Expanded USB peripherals support (native driver support in the host OS – no specialized client drivers needed)
Simple but yet powerful management tools (centralized device management & deployment, device policy & profiles, live session monitoring & controls)
vSpace Server 8.3 software can be downloaded here.
The Cost and Complexity of Scaling Deployments for 100 Users: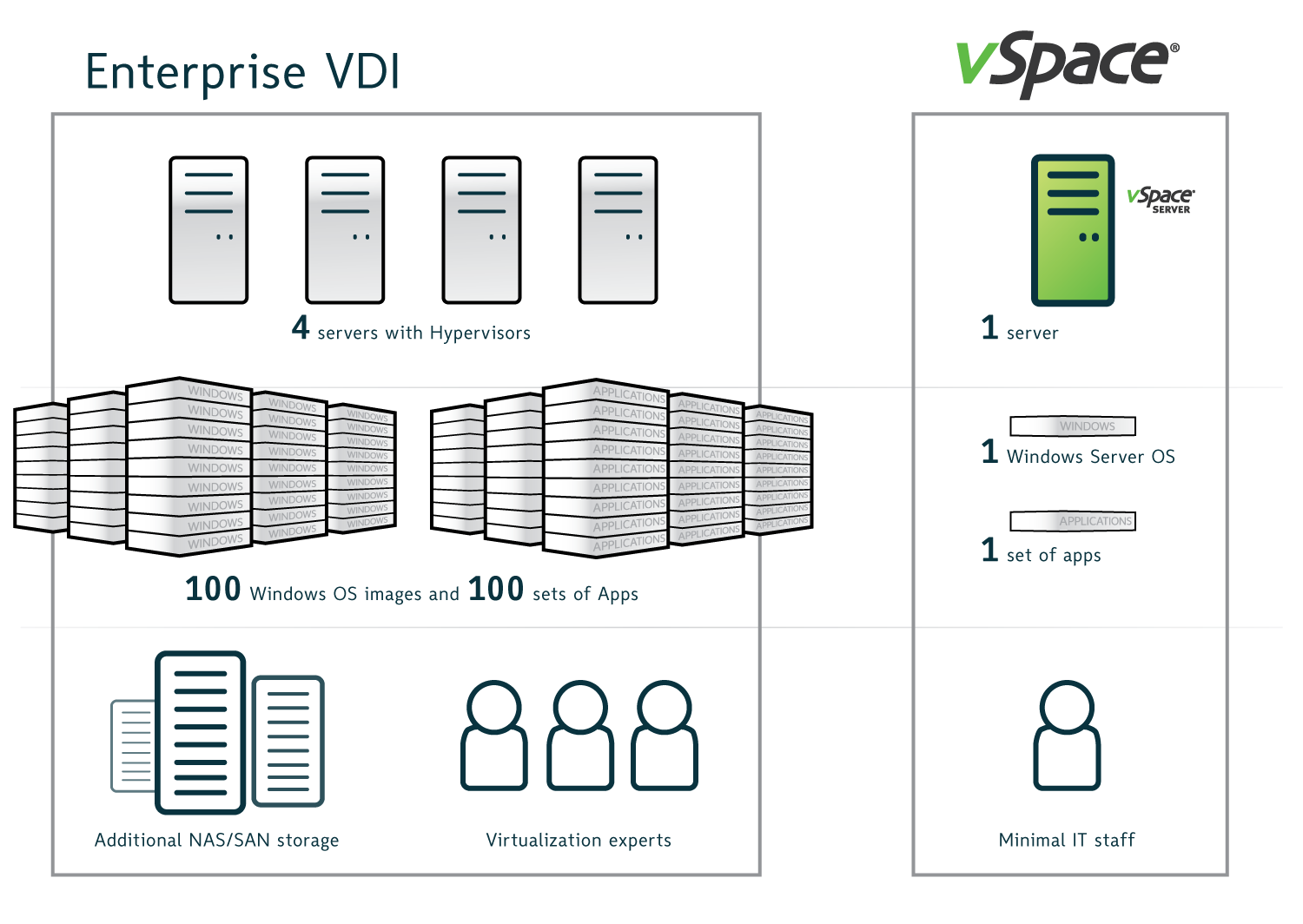 Simplifies the effort required to provide each user with a personalized, centrally- managed and secure desktop computing environment
Reduces deployment time with the ability to configure and deploy thousands of virtual desktops in days rather than weeks
Provides a full, rich, multimedia desktop experience for popular desktop environments, including Windows Multipoint Server 2012, Windows Server 2012 and Windows 8
Broad Compatibility with industry leading applications and server virtualization solutions to protect investment in IT infrastructure
Delivers the most user density per dollar with up to 100 user sessions per vSpace Server instance
Reduces the number of hardware hosts, operating systems, and VMs needed in your environment