Flexible Distributed Network Management
EzMaster Network Management Software expands the flexibility and scalability of Neutron Series EWS Managed Access Points and Switches. EzMaster allows organizations, such as branch offices and managed service providers, to easily and affordably deploy, monitor and manage a large number of Neutron APs, Controller Switches and Managed Smart Switches across geographically diverse properties. Centrally manage an unlimited number of independent distributed networks in the same subnet or crosssubnet from a single, at-a-glance network dashboard, no matter where they're located. Deploy ezMaster locally, remotely or via a Cloud-based service with or without an onsite controller.
Powerful, Scalable Options
EzMaster scales with your growing business needs. Manage 1,000+ Neutron EWS Access Points and Switches and 10,000+ concurrent users. Together, Neutron APs, Switches and ezMaster provide a flexible, fully integrated solution with redundancy support and future expandability for broader device connectivity.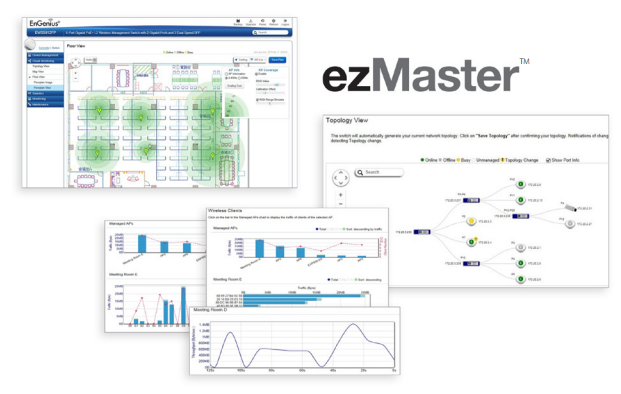 Simplified Device Management
EzMaster Network Management Software makes centralized device management easy. How? Through centralized bulk configuration, provisioning and monitoring, a comprehensive at-a-glance network dashboard, rich analytics and reporting, and much more.
EzMaster Software Features
Centralized Management

Configure, Managed & Monitor 1,000+ Neutron Devices
Cross-Network AP Management
AP Group Configuration

Access Point Configuration & Management

Auto Channel Selection
Auto Tx Power
Background Scanning
Band Steering (Auto Band Steering & Band Balancing)
Client Isolation
Client Limiting
Fast Roaming
L2 Isolation
LED On/Off Control
Multiple SSID
RSSI Threshold
Secure Guest Network
Traffic Shaping
VLAN Isolation
VLAN Tag

Comprehensive Monitoring

Device Status Monitoring
Floor Plan View
Map View
Rogue AP Detection
System Status Monitoring
Visual Topology View
Wireless Client Monitoring
Wireless Coverage View
Wireless Traffic & Usage Statistics

Management & Maintenance

Bulk Firmware Upgrade
Captive Portal
Email Alert
ezRedundancy
Kick/Ban Clients
One-Click Update
Remote Logging

Seamless Migration
SmartSync Redundancy
Syslog
System Requirements
Recommended environment for managing up to 500 APs
CPU: Intel Core i3 3.6 GHz dual-core or above
RAM: 4 GB minimum
HDD: 500 GB (actual requirement dependent on log size)
OS: Microsoft Windows 7 or later + VMware Player 7.0 or compatible virtualization software
Recommended environment for managing up to 1,000+ APs
CPU: Intel Core i5 3.2 GHz quad-core or above
RAM: 4 GB minimum
HDD: 500 GB (actual requirement dependent on log size)
OS: Microsoft Windows 7 or later + VMware Player 7.0 or compatible virtualization software
Browser Requirements
Internet Explorer 10 or better
Firefox 34.0 or better
Chrome 31.0 or better
Safari 8.0 or better
Network Topology Requirements
At sites where APs are deployed: A DHCP-enabled network for APs to obtain an IP address