EnGenius EWS360AP
Ceiling-Mount 11ac Indoor Managed Access Point; 3×3 Dual-Band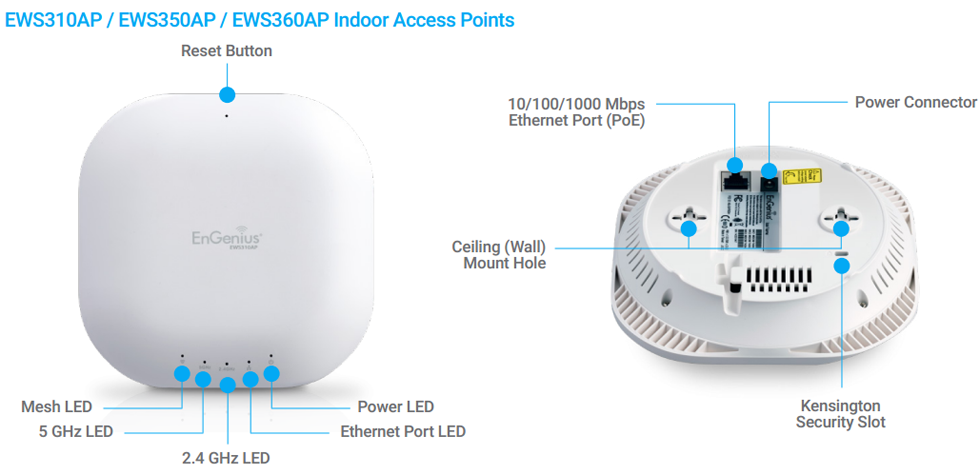 Overview:
The EWS360AP can operate as a stand-alone Access Point connecting to third-party PoE-capable switches but more control and versatile management of the Access Point is achievable when it is part of an EnGenius Neutron Series Wireless Network Management solution because the AP includes firmware that enables it to be immediately discovered, configured, monitored and managed from a compatible Neutron Series PoE+ Layer 2 Switch (EWS5912FP, EWS7928FP or EWS7952FP). This capability enables IT managers to deploy and manage up to 50 EWS360APs from a Neutron Series Switch allowing for simplified management from one browser-based interface including simultaneous firmware upgrades, clustering, traffic monitoring, bandwidth steering and many other features that can be reset or reconfigured from the convenience of the IT manager's desktop.
Operating in both the 2.4 GHz and 5 GHz frequency spectrums and supporting 802.11a/b/g/n and ac (draft) standards the EWS320P features wireless speeds up to 450 Mbps on the 2.4 GHz radio and up to 1300 Mbps on the 5 GHz radio, a Gigabit port for connecting to 802.3at-capable PoE Switches, and an enhanced receive sensitivity MIMO (Multiple In / Multiple Out) antenna array. As a result, the EWS320AP is ideal for spacious environments such as large homes, small and medium-sized businesses, multiple-floor offices, hotels, hospitals, and other multi-floor buildings.
As the EWS360AP is designed for deployments on ceilings where power outlets may be scarce, it also comes equipped with PoE (Power-over-Ethernet) IEEE 802.3at for use with an 802.3at-capable PoE injector or 802.3at-capable PoE Switches, drawing up to 22 watts of power.
Paired with other Neutron Series Access Points and Switches, the EWS360AP helps to make managing a network easier with its standardized GUI. To protect sensitive data during wireless transmissions, the EWS360AP offers different industry-standard encryption settings for wireless transmissions, including WEP, WPA-PSK, WPA2-PSK, WPA-PSK Mixed, WPA Enterprise, WPA2 Enterprise, and WPA2 Mixed Enterprise.. It also includes MAC address filtering to allow network administrators to offer network access only to verified computers and devices based on their MAC addresses.
Product Highlights
11ac Speeds to 1,300 Mbps on 5 GHz; 450 Mbps on 2.4 GHz
Band Steering Shifts Dual-Band Clients to 5 GHz, Improving Network Efficiency
Enhanced Range, Multi-Floor Coverage With up to 28 dBm Transmit Power
Connect & Power via 802.3at PoE+ Gigabit Port for Flexible AP Deployment
High Performance Reliability
EnGenius' Neutron Series line of Managed Indoor Access Points provides wireless connectivity that's flexible, scalable and reliable for a broad range of indoor applications. Whether you are looking to connect a luxury home or office or need to provide ultra-fast Wi-Fi access to a large resort or campus, Neutron EWS Access Points meet the high-bandwidth requirements of today's mobile users.
No matter what size network you need to support, Neutron EWS Access Points are flexible enough to meet your needs. Start small and grow or go big. Deploy and manage a few or 1,000+ APs on an unlimited number of networks distributed across various locations—regardless of their size and infrastructures. Neutron Series easily scales with your networking needs.
Features & Benefits:
Flexibility in Deployment
Neutron's versatile line of high-performance, managed, indoor ceiling- and wall-mount access points range from single-band 11n models to high-capacity 4×4 dual-band 11ac Wave 2 versions. Wallplate models serve as all-in-one communication "hubs" for in-room wireless connectivity. Configure APs individually as stand-alone units, locally manage up to 50 per Neutron Switch or use ezMaster software to control 1,000+ APs.
Ultra-Fast 11ac Wave 2 Speeds
EnGenius' 11ac Wave 2 Access Points deliver the highest available speeds for Wi-Fi devices reaching 2.5 Gbps. Beamforming technology focuses signals directly to client devices, providing optimal, reliable reception even in densely crowded environments. Four spatial streams and dual-concurrent MU-MIMO radio operation sends beams to multiple users simultaneously, creating increased network capacity.
Optimized Connectivity
Neutron EWS APs feature dual-band1 concurrent wireless coverage, high speeds, and high-device capacities. Band Steering optimizes network traffic flow by automatically directing dual-band clients to the less congested 5 GHz band. Fast Roaming capability ensures seamless, reliable connectivity for mobile users as they move between access points.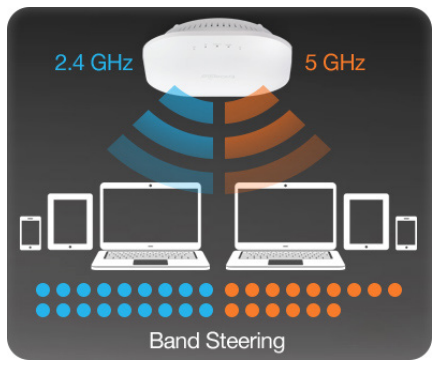 Protected by Advanced Encryption
With Neutron EWS APs, your network is protected from attacks at multiple levels through advanced wireless encryption standards such as Wi-Fi Protected Access Encryption and authentication. Network threats are quickly detected and avoided through rogue AP detection, email alerts and real-time wireless invasion monitoring, allowing for immediate action to divert network hacks and other security threats.
Secure Guest Networks
Organizations that offer Internet access to patrons or visitors— notably hotels, retail shops and restaurants—will appreciate Neutron's guest network capabilities. Establish a secure guest network that blocks access to main corporate computers. Create separate Virtual LANs for increased security, network reliability and bandwidth conservation.
Power-over-Ethernet Convenience
All Neutron EWS Access Points feature at least one Gigabit PoE port, enabling placement in discreet locations where power outlets are scarce or unavailable. Power the APs through a connected Ethernet cable directly to a Neutron Managed PoE+ Controller Switch or with a PoE adapter up to 328 feet from the power source.
Simplified Deployment & Provisioning
In combination with Neutron Switches and ezMaster Network Management Software, Neutron EWS APs are automatically discovered and provisioned. One-click individual or bulk configurations and upgrades save time. In addition, these access points are quickly and easily deployed and operated by users with limited networking experience.
Manage Up to 50 APs with Neutron Switches
In small settings, any Neutron Managed Switch can act as a wireless controller capable of managing up to 50 Neutron EWS Access Points. IT administrators have access to all connected Neutron devices and a full array of Layer 2 management tools. Choose between PoE+ and non-PoE switch models with flexible deployment and management options.